APL Season 2 Schedule and Committee Sign-Ups
December 13th, 2017
Hey everyone!
In our 2nd in the series of blog posts providing information about Season 2, we're bringing you the tournament schedule! We're keeping this post short and sweet, so the information is as follows:
Open Qualifiers: 7th January
Round 1: 14th January
Round 2: 21st January
Round 3: 28th January
Round 4: 4th February
Round 5: 11th February
Round 6: 18th February
Round 7: 25th February
Round 8: 4th March
Grand Finals: 10-11th March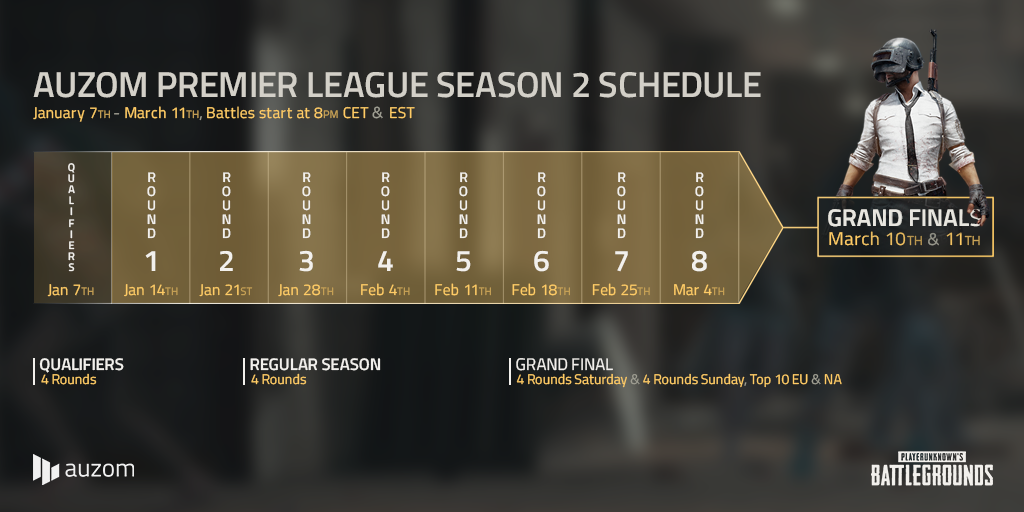 That means that we've got just over a month until Round 1! But don't worry, we've got some Playtests planned over the next few weeks!
Additionally, we are happy to announce that the sign ups for our committee phase of invitations for APL Season 2's closed tier will be opening on the 18th of December - so keep an eye out!
Have an Auzom day!
---
Season 2 Seeding Stages: Part I
December 8th, 2017
Season's greetings!
With the official release of PUBG fast approaching, it's about time for us to inform you about Season 2 of the Auzom Premier League!
There will be a slight difference in structure compared to Season 1.
Closed top tier
Separate lobbies per region
40 EU teams + 40 NA teams
An open tier system
There are 3 ways to get in the closed tier: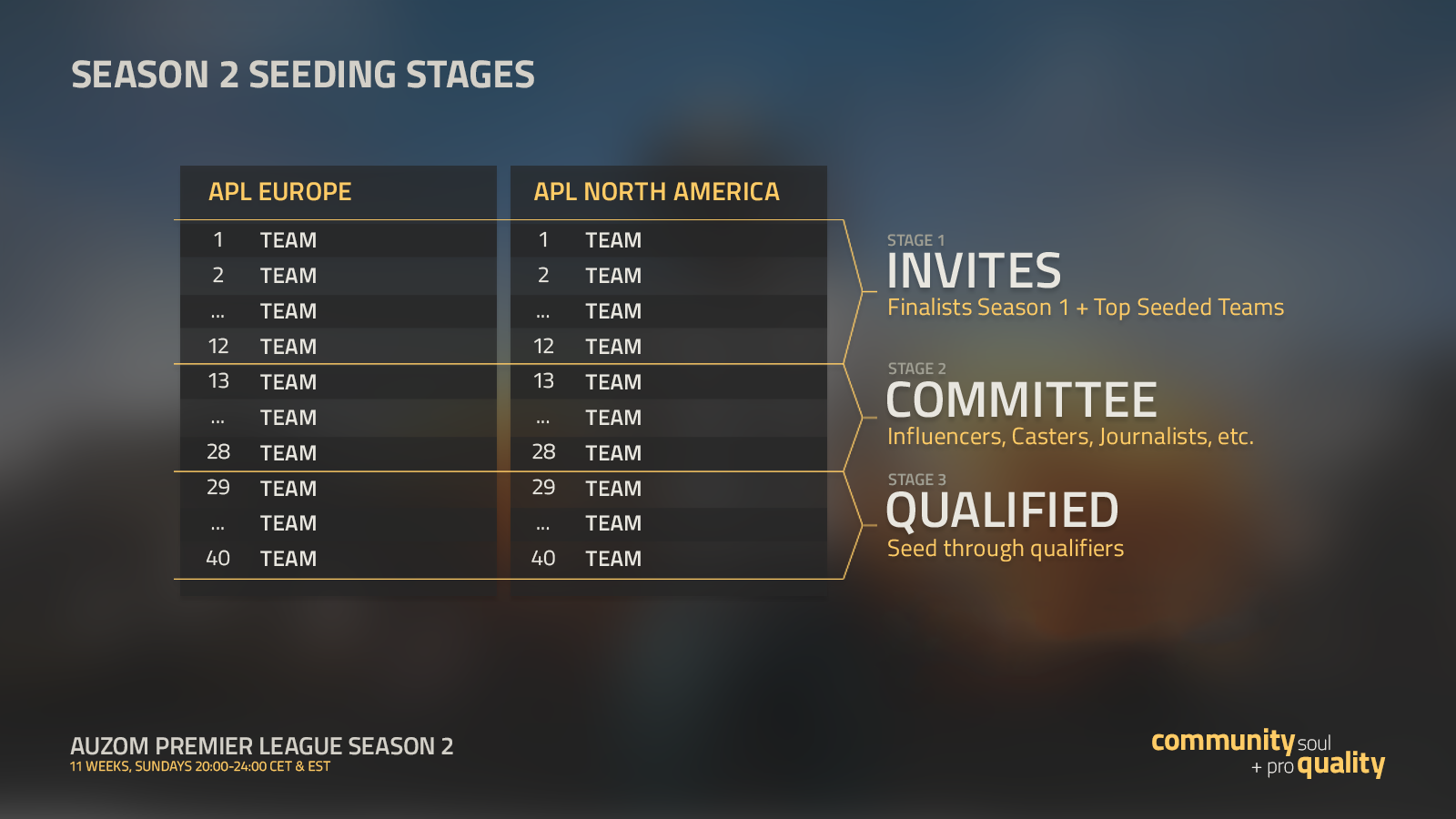 Stage 1: Invitation to top 12 teams per region from APL Season one
Stage 2: Invitation to top 16 teams per region selected by a committee
Stage 3: Qualifiers for the remaining 12 slots
Any team can apply to be reviewed by the committee which is made up of people with a good understanding of the competitive PUBG scene, they are all independent of the Auzom administration. The committee will have casters, journalists, analysts and staff from other PUBG leagues to ensure that we have a range of people with widespread knowledge of areas of the scene which we ourselves may not be aware of. For the sake of transparency, we will be announcing the full list of committee members and their backgrounds in the near future!
The final phase is the open qualifiers. These will be held shortly after the launch of the full game. Half of the qualifier slots will be populated by taking MMR into account, and the remaining half will be done on a first come, first served basis. If after all three stages a team does not make it into the closed tier, they still have a chance to compete in Auzom events by signing up to play the open tier matches.
Teams that do not make it into the closed tier will still have the chance to sign up and play for an additional open tier.
We're aiming to bring you all the information you need for Season 2 in a series of blog posts, so keep an eye out for further information!
Have an Auzom day!
---
Details on the Nations Cup
November 19th, 2017
Hello beloved community!
IMPORTANT: Previously we had announced that the Nations Cup would start on December 3rd, but after some deliberation we have decided to extend the cup to a two day event which will commence on December 2nd and end on December 3rd. The Nations Cup will be played over 8 rounds, with 4 rounds being played each match day. Full details regarding the Nations cup can be found below.
A Brief Overview
Event structure: Invitational
Event duration: 2 days (December 2nd - December 3rd)
Check-in time: 18:30 CET / 12:30PM EST
Game time: 19:00 CET / 1:00PM EST
Number of divisions: 1 lobby
Division size: 20 teams
Team size: 4 + max 4 substitutes
Game settings: Red Zone: Disabled, AR Spawns: 1.5x, Cosmetics multiplier: 0x
Game mode: Squad, First-Person Perspective
Number of rounds: 8 rounds
Prizes: TBA
Important Dates
November 25th: Roster Deadline
Auzom staff have selected team captains who have until November 25th to submit their full roster.
November 26th: Scrims
To allow the nation teams to practice versus other nation teams, a scrim night will be hosted on November 26th. This will not be casted.
December 2nd to December 3rd: Nations Cup
The Nations Cup event will commence on Saturday, December 2nd at 19:00 CET / 1PM EST. Same times will apply for Sunday, December 3rd. (Check-ins will start at 18:30 CET / 12:30PM EST)
Nations Cup Rules
Player Restrictions and Instructions
A national team is defined when all players are actually born or living in the nation they're playing for and the nationality is defined by the citizenship (passport) of a player.
A team may sign up with 4 players and 4 reserves.
A team must consist of at least 4 rostered players to be eligible to compete.
Deadline for the roster is the 25th of November.
Teams must not have more than 2 players from the same pro roster. An exception may be made where there is a lack of pro or high tier teams in a country. If you think this may apply to your team, please contact the admin crew as soon as possible.
Rosters may not publicly be announced until they have been officially released by Auzom.
Server Settings
First-Person Perspective
Squad
EU Servers
Redzone disabled
AR multiplier: 1.5x
Cosmetics multiplier: 0x
Scoring
1 point will be awarded per kill
1st place: 32 points
2nd place: 25 points
3rd place: 20 points
4th place: 15 points
5th place: 13 points
6th place: 11 points
7th place: 9 points
8th place: 7 points
9th place: 5 points
10th place: 3 points
11th-15th place: 1 point
16th-last place: 0 points
Tiebreakers
Average placement > Kills
Prizes
Details regarding prizes are still being finalized. To Be Announced.
A few concluding words...
We have seen a great response on Twitter, and we are very excited to host this event for our community and thankful for your support. If your nation is not represented in this iteration of the Nations Cup, fear not because there will be more cups in the future which will accomodate more nations.
Have an Auzom day!
---
Auzom Developer Update #4
November 1st, 2017
Hello community!
It's been a long time since the last developer update - almost 4 months to be more specific - and a lot of features have been added since then. Some may be obvious while some may have gone unnoticed, so let's go through them, shall we?
Scoreboard page
Team highlighting: When hovering over a team name in the "Spotlight Statistics" section on the right side of the scoreboard, the team is simultaneously highlighted in the scoreboard on the left side.
Refresh indicator: We've implemented a few things to more clearly show that the scoreboard has actually been refreshed after clicking on the reload-button, namely the "Scoreboard has been refreshed!" message and a point counter animation that we hope is not too obnoxious.
[Seasonal scoreboard-specific] Inactive members: If a team has any "inactive" members, they can be found by clicking on a team name to show the team info and then clicking [Inactive members].
[Seasonal scoreboard-specific] Consistent top placements: While we have a spotlight statistics section dedicated to kills we also want to showcase teams with a track record of good placements during the APL season and so we have added a section titled "Consistent Top Placements" to the spotlight statistics.
Scoreboard search: In case you are having a hard time finding a specific team on the scoreboard, you can click on the left-most button with the magnifying glass icon at the top-right of the scoreboard to bring up an input box. This feature currently only searches through team name and team tag, but the ability to search for specific players (a feature that we know would be very useful to many users) will be added soon.
Events page
Caster portraits: For each event with a caster, the caster's portrait can be found on the bottom right of the event box. An event's caster was previously indicated simply by text.
Contact page
Recruitment section: Here at Auzom we are always looking for dedicated individuals to fill important roles within the organization to be able to expand and provide a high quality service. We have therefore added a recruitment section on the contact page with the positions we are currently looking to fill.
As always, we are looking for any feedback from our community regarding improvements to our website. Any bug-sightings, improvement suggestions, feature suggestions? Please don't hesitate to let us know on Twitter or Discord.
Have an Auzom day!
---
Seeding System and APL Finals
October 29th, 2017
Howdy!
There's lots going on behind the scenes at Auzom at the moment, and we're working frantically to continue bringing you the quality of tournaments that you have come to expect from us! In the middle of all this we can't help but notice that the quantity of discussion regarding our lobby seeding system is becoming a lot greater, so we thought we would explain the system a little bit more.
The system is based on the swiss tournament system, where the idea is that teams play other teams of a similar level and if they do well, they go against better teams, and vice versa. However the majority of the discussion surrounding the system seems to be due to the fact that teams are able to make a large jump in points by having a really good week in a lower lobby. The important thing to remember is that when using swiss-based systems, the intermediate rankings are not as important and are not accurate. The final overall scoreboard will show us if the system has ranked teams relatively well, or if it has not. If there are a lot of unexpected placements in the final scores then we can fairly categorically say that the system has not achieved its goal. Additionally if a team jumps up a long way and then performs well in the higher lobby, that shows us that the team deserved to be playing at that level and is relatively well placed, however if they do not do well they will drop down again until their genuine ranking is found. However, due to the quantity of adverse feedback on the lobby seeding system, we are actively investigating changes/alternative systems for the next season so that we can come back bigger and better than before!
As a final note, we have been monitoring the opinions of players for the last few weeks and have come to the decision that our APL Finals, which take place on November 12th, will have 5 rounds rather than the previously announced 4. This means that teams have an extra chance to prove their worth, and one bad/unlucky round has a smaller impact on a team's overall chances! Furthermore, we have decided that a team's position in the overall scoreboard before the final will count as an extra "bonus round" in the final, our usual scoring system will be used for this.
Have an Auzom day!
---
Cancellation of Week 7
October 21st, 2017
Greetings!
Today's announcement is one that we have spent quite a long time considering and whilst unfortunately the outcome is not quite as we would like it to be, we feel that it is the best decision for the wider prosperity of the PUBG competitive community as a whole.
Due to the recent announcement of the Intel Extreme Masters PUBG and its qualifiers on the 29th October, we have decided to cancel Week 7 (29th Oct) of the Auzom Premier League. This is mostly due to a scheduling problem that is unresolvable without negatively impacting the competing teams, as in an ideal situation we would be able to reschedule the round but as our finals are taking place on the 12th of November and cannot be moved we are unfortunately left with little choice but to cancel the round.
We have explored many options to see if we could find a solution that accommodates the teams from both regions and also without impacting their ability to participate in other events that they have signed up for, but we have come to the conclusion that none are viable. We also do not believe it is within our right or in our interests to reschedule and directly clash with any other tournaments, nor will we ask any other tournaments to adjust their schedule to allow us to fit in Week 7. This Sunday's matches, and the new "Week 7" on November 5th will continue as normal, so the schedule will now look like this:
Oct 22nd: Week 6
Oct 29th: Week 7 - CANCELLED
Nov 5th: Week 8
Nov 12th: Final
We here at Auzom firmly believe that the health of the wider scene is more important than our own interests, and we will continue to act in a manner that adds to the prosperity of the emerging PUBG esports scene. We will be releasing another blog post in the near future with further information regarding our lobby seeding system and the APL finals!
Once again, thank you for all the support and we hope that it continues!
Have an Auzom day!
---
Return of the Play Tests
October 11th, 2017
Hey everyone!
We hope you are all enjoying the ongoing APL season! We're having a blast putting it together and are happy to see that it has been well received by the community! Now, onto the purpose of today's announcement.
After some careful consideration we have determined that we want to bring back our Play Test format as a way of keeping up with changes in the game and primarily as a testing ground for various different aspects of competitive PUBG. Our goal with this new phase of Play Tests is to experiment with new rules and formats that we may possibly implement at a later date in our flagship tournaments.
So what does this mean? Well, our new Play Tests are entirely separate from our existing APL season and we will not implement any changes from a Play Test in this season of the APL. We are not planning to cast these events but we may occasionally do so to test broadcasting setups, however we will allow player streams! Additionally, receiving feedback on our tests is what we are looking for so if you participate please let us know your comments on what we've tested for that specific event. Whilst of course we do intend to publish scores for the Play Tests, they will likely not be released as quickly as they are in the APL as we will need to prioritise any data we get from the event.
Every Play Test might have a different thing we are testing and asking for feedback on, and we are also open to community suggestions about what to test. Play Tests are likely to take place on Thursdays (although this may change), and it is not guaranteed that they will take place every week.
If you have any further questions please feel free to speak to an admin on our Discord server!
Have an Auzom day!
TL;DR: Play Test 11
Date: Thursday, 12 October 2017
Time: Check-in 19:30 CEST / 1:30 PM EDT
Number of teams: 20+
Team size: 4 players
Mode: First Person
Rounds played: 3 rounds
Game settings: APL Settings
Play Test 11 Overview
The Auzom PUBG Play Test 11 will take place on Thursday, October 12th. The purpose of this Play Test is to act as a test run for a potential future points system. We encourage you to get familiar with the scoring system before the event and adapt your playstyle accordingly. Once the Play Test is over, a survey will be provided for feedback purposes.
Other Play Tests might happen in the future to try out new settings for our upcoming season(s).
Play Test 11 will NOT be casted, but player streams are permitted.
Team Capacity: Subject to host availability, soft limit of 80 teams.
20 teams per server.
If we are running multiple servers, they will be seeded manually.
Only teams with 3+ Players are allowed to compete, teams failing to meet this criteria will be kicked.
We will not restart a round unless we believe it is highly detrimental to our ability to receive feedback on what we are testing.
Point System for Play Test 11
+ 10 points/kill
1st place: 300 points
2nd place: 225 points
3rd place: 190 points
4th place: 165 points
5th place: 145 points
6th place: 130 points
7th place: 115 points
8th place: 100 points
9th place: 85 points
10th place: 70 points
11th-12th place: 60 points
13th-15th place: 50 points
16th-20th place: 40 points
How to Join
The sign up form is available here: https://goo.gl/forms/pNz6A2TPz0toXFqu1
Gameday Schedule
19:30 CEST (1:30 PM EDT): Check-In on the Auzom Discord
~19:50 CEST (1:45 PM EDT): Server information will be posted in the respective text channel
20:00 CEST (2:00 PM EDT): Match start
Please join the server as soon as the information has been posted.
An image will be posted in the text channel showing which server slot each team is expected to join. For every new round you will need a new password, which will be available in the relevant channel when the new lobby is created. You will have 5 mins to join the server after the server information has been published before it is locked and the round is launched.
The server slot number will be the same every round.
Example:
Servername: Server 1, Auzom Play Test 11
PW: Password
Mode: 1PP
Server will get locked at XX:XX CEST
---
Official Statement Regarding Perspective Change
September 29th, 2017
Dear Community,
As we're sure most of you are well aware, the issue of First and Third Person within competitive PUBG is a very hot topic and one that is frequently touched upon in every single place of discussion in the community. We at Auzom are no stranger to the debate and have followed it closely since it began, although largely staying away from the public discussion. Ever since our inception many years ago we have put the community at the forefront of our decision making process as we believe that it is not possible to have a healthy esports scene without the full backing of its community.
Before we started the first season of the Auzom Premier League we conducted a poll internally on our Discord server on the matter and it returned a dead heat amongst those who voted. The results were as follows: 76 for FPP, 79 for TPP and 12 for both. Based on the results of this poll we deemed that it was not viable to select a singular mode for the season - this is where our idea for a weekly rotation came from. As time went on and the discussion continued, we believe that our existing position became untenable.
Over the last couple of days we conducted a poll open only to the team leaders of current participants in the Auzom Premier League with a simple question: "Should Auzom switch the format of the current season of the APL to First Person ONLY?". At the time of writing the results of that poll are as follows: 93.75% turnout, with 74.6% of that in favour of switching the format to First Person, 25.4% against. It was made clear that this poll was non-binding but with such a significant shift in the margin we cannot afford to ignore the result.
Because of this we are announcing that the active season of the Auzom Premier League will switch to First Person ONLY with immediate effect.
We believe that this is the right decision based on the feedback of our active community, but also for the wider community as it means that teams can now settle and focus on one perspective. It is important to note that we will only ever make large changes to our events during mid season under exceptional circumstances - this will not be the norm. We do not necessarily believe that it is within our right to advocate for one mode or another and for that reason we are not removing Third Person from the picture completely. If opinions shift again in the future we will be ready to adapt and accommodate where we can but for now we will move forward using First Person. All other elements of our events will remain the same until after the season is finished and we have collected feedback and reviewed it internally.
Whilst we have your attention we thought we would take the opportunity to offer further explanation on our overall scoreboard system. Some have expressed their opinion that point allocation should be weighted based upon the lobby - for example Lobby 1 teams earning more points than Lobby 4 teams. As an iteration of the Swiss tournament format, we do not believe that our system is inherently unfair due to the duration of our event. With a total of 8 weeks before the teams for the final are selected the standings should even out to provide a theoretically accurate representation of team ability. We expect that within the first few weeks of the season there will be a lot of switching between lobbies but this is not an issue to worry about as it should stabilise as the event continues. As always we will review the system at the end of the season and collect feedback to determine if we need to make any changes.
Thank you all for your time and thank you for your participation! If you have further questions please contact an admin or a member of staff on our Discord server.
Have an Auzom day!
---
Welcome to Our New Community Manager
September 28th, 2017
Hello!
Today we have some very exciting news to share with you all. We are proud to welcome Jennifer Gjulameti to the Auzom team to fill the very important role of Community Manager!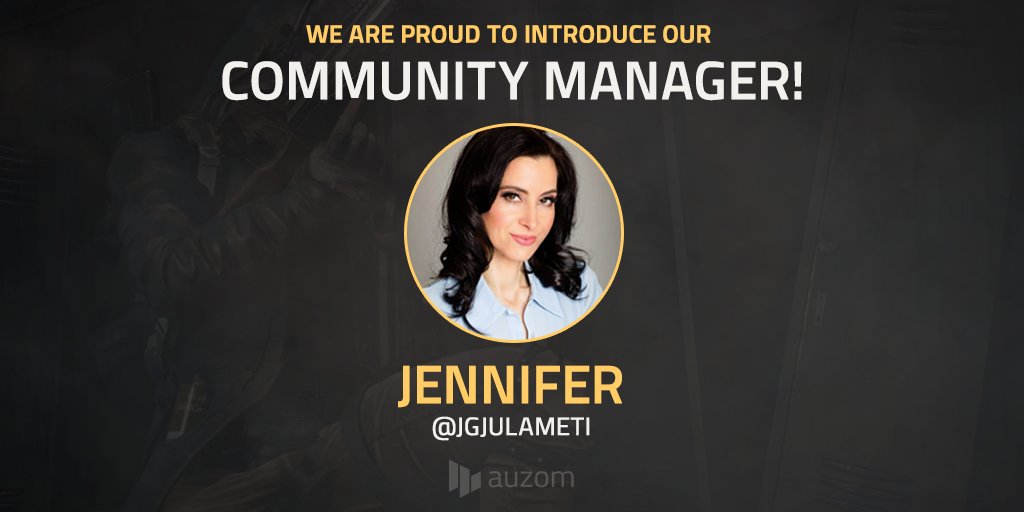 We are excited and look forward to work with her and accomplish great things together from this point on. Please join us in welcoming your brand new Auzom Community Manager!
Have an Auzom day!
---
Welcome to the Auzom Premier League
September 3rd, 2017
G'day everyone!
As I'm sure you're aware, we have recently been mentioning a "season" quite a lot on our Discord server and also Twitter. But what is it? Well, we're happy to say that today we can bring you some more information about this fancy new season business, with more details coming later! So how is it going to work? Well, we'll start by saying that the signups are opening at 20 CEST on Monday 4th September!
A Quick Overview
Season structure: Open Ladder is populated by weekly signups. One seasonal scoreboard that decides what server each team will populate. For example, Server 1: Top 20 Ranked, Server 2: Top 40 Ranked, etc.
Number of divisions: 1 Open Ladder division [NA + EU Combined], up to 4 lobbies
Mode: 3PP and 1PP
Team size: 4 + 2 subs
Game settings: Red Zone disabled, Costumes Multiplier 0
Registration period: 1 week
Season duration: 9 weeks, containing 3 stages.
Rounds: 24 Rounds for each division, plus 4 rounds for finalists
This season we will be using both 3PP and 1PP perspective on an alternating basis, as follows:
Qualifier 1: 3PP
Qualifier 2: 1PP
Round 1: 3PP
Round 2: 1PP
etc.
Qualifiers
The qualifying period will last 2 weeks and will act as a fast track method for teams to get their initial ranking used for seeding the lobbies in the group stage. In Qualifier One teams will be split over servers manually to help speed up the process. For Qualifier two and any round after the seeding will be based off of the team's current ranking in the season scoreboard. Please refer to the following example (example uses 8 server slots for demonstration purposes).
Groups
The group stage will also have open signups, but priority will be given to teams already actively competing in the competition. There will not be a closed higher tier. This stage can accommodate a maximum of 72 teams on gameday depending on lobby hosting availability and matches will be played on Sundays lasting 6 weeks. The server lobby seeding will be based off of the points in the season standing. These points are accumulated by playing qualifiers and group stage rounds.
Finals
The finals stage will take place on one Sunday and will be made up of 4 rounds, two of which will be 3PP and two 1PP. The top 16 ranked teams in the standings at the end of the group stage will qualify to play in the Finals. The team with the highest points score at the end of the finals will be declared the winner.
We look forward to seeing you in the signups!
Have an Auzom day!
---
End of Play Test Phase, the Future and Scoring Changes
August 11th, 2017
Salutations!
We hope you've all been enjoying yourselves recently, we certainly have! Our definition of enjoyment is likely to be slightly different though since we've been very busy plotting future events and keeping CptObvs tied to his chair and bribing him with cake so that he keeps working on the website! We'll pay him eventually, we swear!
Anyway, on to business! As you may have guessed from the title of the blog post, Play Test 10 will be our last. Alas, what's done is done. What that means is that we'll be on a short hiatus but fear not! We'll be back very soon with more information on our future events. To give a small hint, we've got big plans ahead and will be entering into a seasonal format in the near future. Keep an eye out for any announcements!
Additionally, we'll be implementing a couple of very small changes to the scoring system which can be seen below. The new system aims to give a slightly greater reward for achieving 1st place, whilst also differentiating between 11th-15th and 16th-last.
Previous Scoring System:
+ 1 point/kill
1st place: 30 points
2nd place: 25 points
3rd place: 20 points
4th place: 15 points
5th place: 13 points
6th place: 11 points
7th place: 9 points
8th place: 7 points
9th place: 5 points
10th place: 3 points
11th-last place: 1 point
⇒
Proposed Scoring System:
+ 1 point/kill
1st place: 32 points
2nd place: 25 points
3rd place: 20 points
4th place: 15 points
5th place: 13 points
6th place: 11 points
7th place: 9 points
8th place: 7 points
9th place: 5 points
10th place: 3 points
11th-15th place: 1 point
16th-last place: 0 point
With that said, we're looking forward to Play Test 9 which is our biggest yet! We'll be looking at how the first person only lobby differs in terms of playstyle when compared to the third person lobbies. The contrast is likely to be very interesting! We would also like to take the opportunity to thank all the participants of our Play Tests up until this point, we value your participation greatly and are especially thankful for the way you've helped us shape our events!
Finally, we'd like to welcome Paramon to the admin team! She will be able to handle any of your requests or pass information on to the rest of the team!
Have an Auzom day!
---
Welcome to Our New Admins
July 14th, 2017
Hello community!
Last week we announced that we were looking to expand our administration team for our PlayerUnknown's Battlegrounds events. We're happy to announce that KNAPKINATOR and Paddii have now joined the Auzom PUBG admin team and will help run and improve our events from behind the scenes. If you have any questions regarding our events, don't hesitate to contact Skrublord_Gump, KNAPKINATOR, or Paddii.
Moreover, we will be hosting two tiers for our next PUBG event Sunday, July 16th at 8PM CEST. Tier 1 will be casted by Daskro at twitch.tv/auzom_gg. Tier 2 will be casted by ToffeesTV at twitch.tv/toffeestv.
We're excited for this event, we hope to see you all there!
Have an Auzom day!
---
A Chance to Join the Crew
July 7th, 2017
Dear PUBG players!
Auzom is looking to expand into the PlayerUnknown's Battlegrounds scene in the upcoming months! This of course means that we need to expand our admin crew! We've been wondering how to go about finding the most capable people for the job, but then we realised that the answer was right in front of us in the form of our own community.
So, that means we are opening applications for new members of staff to help us with our weekly PUBG events, and perhaps some other exciting projects too! An ideal applicant would have experience in community management or event management. We also require a decent level of English and, perhaps more importantly, time. We need to be able to count on you when it's required. The work is fairly widely spread throughout the week but the most time is required during the weekend as we prepare and run our events!
If you want to try it out, please send a private message to Skrublord_Gump on our Discord.
We hope to see you in the team soon!
Have an Auzom day!
---
Auzom Developer Update #3
July 7th, 2017
Hey!
Here at the Auzom team we are constantly looking to improve our services. Another event and another week of development has passed. Here's what's been going on...
The following things have been added to the website:
Further design tweaks for the scoreboard. Among other things, the scoreboard now supports logos for teams that want to use their branding.
Improved scoreboard refresh. No need anymore to refresh the entire page in the browser to update the scoreboard.
Added an event info section to the front page. We hope this helps convey information about the upcoming event better.
Further code optimization.
The team signup feature is something we are continuously investigating solutions to. We are hoping to have this implemented as soon as possible.
Any feedback or ideas you might have, don't hesitate to let us know on Twitter or Discord. We appreciate all constructive feedback!
Have an Auzom day!
---
Auzom Play Tests - Week 3
July 2nd, 2017
Hello again!
As Play Test #4 approaches, we wanted to give a short rundown of what changes will take place for the upcoming event.
Changes for Play Test #4 (Ruleset squad4 v0.3)
Pistol and SMG loot will be returned to default
The red zone will remain off.
Our biggest change for this event is in regard to the scoring system. The scoring system for Play Test #4 will be as follows:
Scoring System, Play Test #3:
+ 1 point/kill
1st place: 40 points
2nd place: 35 points
3rd place: 30 points
4th place: 26 points
5th place: 22 points
6th place: 20 points
7th place: 18 points
8th place: 16 points
9th place: 14 points
10th place: 13 points
...
20th place: 3 points
⇒
Scoring System, Play Test #4:
+ 1 point/kill
1st place: 30 points
2nd place: 25 points
3rd place: 20 points
4th place: 15 points
5th place: 13 points
6th place: 11 points
7th place: 9 points
8th place: 7 points
9th place: 5 points
10th place: 3 points
11th-last place: 1 point
To clarify, this means that teams that place below top 10 will receive 1 point. Our reasoning is that this system would have kills be weighted more (relative to the placement score) for lower placing teams, and at the same time rewarding a high placement in the round. Please note that these changes are not final and are only being tested to see how they affect the gameplay.
Thank you for your participation and your feedback. Let's make Play Test 4 a great one!
Have an Auzom day!
---
Auzom Developer Update #2
June 27th, 2017
Hello!
Another week has gone by, and the dev team at Auzom has been working on some new interesting things. Here's the rundown...
The following things have been added to the website:
Code optimization.
Further design tweaks for the scoreboard.
Scoreboard archiving: Links to scoreboards from previous events can now be found in a dropdown on every scoreboard.
More statistics: More statistics have been added to the scoreboard. In "condensed"-mode you can find the following statistics by clicking on team names and player names: kill-percentage for teams, average round placement for teams, kill-rank for players, highest killcount for players and average kills per round for players.
The dev team will now focus on the following features:
Team signup
Improved scoreboard refresh
As always, feedback is greatly appreciated. Don't hesitate to let us know of any bugs you may find, or features that you would like to see implemented.
Have an Auzom day!
---
Auzom Play Tests - Week 2
June 24th, 2017
Howdy folks!
We just wanted to give you a quick update on the rule changes we are implementing for this week's play test! Based on feedback given from Play Test #2, we will be altering the following:
Changes for Play Test #3 (Ruleset squad4 v0.2)
Crate Drops will return to 1x
Pistol and SMG loot will be increased to 2x
The red zone will remain off and we are maintaining the scoring system from Play Test #2.
As always, we are welcome to any suggestions so if there's a change that you would like to see for a future play test please let us know!
Just as a final note we would like to apologise once again for the issues we encountered last week to do with server stability. Unfortunately there is nothing we can do regarding this issue as we are randomly allocated the server when we launch the lobby. That said, it looks like it was an issue experienced across the whole community - not just for us! Regardless, we hope that we will not have any problems for tomorrow's event!
Have an Auzom day!
---
Auzom Developer Update #1
June 17th, 2017
Greetings!
These developer updates aim to provide you, the community, with some insight into what is being implemented or updated on the pubg.auzom.gg website so they don't go completely unnoticed, and also the exciting stuff that is in the plans for the future.
To start off, we are very thrilled to have all of you joining us from launch. We hope you are having a pleasant experience with the website so far. We want to make your experience as enjoyable and engaging as possible. Much of the improvements to the website are based on feedback from the community, so we encourage you to keep up the solid feedback so we can deliver that experience.
The following features have been implemented these past weeks since launch:
This blog section.
Added a navigation bar to the scoreboard page.
Design tweaks for the scoreboard.
Added star icons next to the team captains on the scoreboard.
Proper page titles.
Improved content management (not visible to the user, but makes for a more pleasant developer experience).
Of course, there's still more work to be done. What's in the plans for the future? In no particlular order, the following features are in the plans of being implemented:
Scoreboard archiving: Links to scoreboards from previous events.
More statistics: Average kills/round (team and player), average total kills (team and player) and "spotlight statistics" for top performers such as player with most kills, team with most kills, etc.
Improved scoreboard refresh: Ability to refresh scoreboard without having to do a full refresh of the page in the browser.
Country representation: Flags to indicate a team's country representation.
Event highlights: Livestream highlights on the scoreboard page.
Team signup: Ability to sign-up as a team directly from the website to create a more cohesive "Auzom experience" for the events.
We want your feedback
As previously mentioned, many of these updates are based on feedback from the community. We are looking forward to reading your feedback on any channel of communication you may choose, whether it be on Discord, Twitter or the livestream. Thank you for the patience and support, and thank you for being a part of the Auzom community!
Have an Auzom day!
---
Auzom Play Tests - Week 1
June 14th, 2017
Hello everyone!
This first article is the beginning of a new way for Auzom to give you insight on how we decide the changes in our game format. We think that, as a community-based organisation relying on your feedback to progress, you deserve the right to know what we base our decisions upon.
Changes for Play Test #2 (Ruleset squad4 v0.1)
Red zone: Off
Crate drop rate: 2x
New scoring system (see below)
One reserve player allowed per team

Our first play test took place Sunday 11th of June. We were happy to see so many people willing to play, ending up refusing teams due to space limitation. We have had a great show, enthusiastic viewers and not too many issues even if PlayerUnknown's Battlegrounds is still in early access.
We opened the registration this Monday evening and the event was full in just a few hours. Thanks, we like to see your enthusiasm!
After the first event, we asked the teams to give us feedback to tweak the rules for the next event. Here are the results of the surveys and the decisions we have made based on this feedback.
67% want to stick with 3rd person (10/15). We will continue with 3rd person for Play Test #2.
Almost everyone requested to be able to add a reserve. We decided to let teams have one reserve player for Play Test #2, in case of any issues.
Wanting to try the game without this random factor and due to suspicion of causing game crashes, the red zone will be turned off for Play Test #2.
53% (8/15) want to have a crate drop rate increased to 2x. We will try this for Play Test #2.
All other settings will be kept as they were for Play Test #1 (= default).
Based on feedback gathered on Discord we have decided to grant a bit less points for placing, to give more weight to kills. You can see the difference between the old and the new scoring system down below:
Scoring System, Play Test #1:
+ 1 point/kill
1st place: 50 points
2nd place: 40 points
3rd place: 35 points
4th place: 30 points
5th place: 26 points
6th place: 22 points
7th place: 20 points
8th place: 18 points
9th place: 16 points
10th place: 14 points
11th place: 13 points
...
⇒
Scoring System, Play Test #2:
+ 1 point/kill
1st place: 40 points
2nd place: 35 points
3rd place: 30 points
4th place: 26 points
5th place: 22 points
6th place: 20 points
7th place: 18 points
8th place: 16 points
9th place: 14 points
10th place: 13 points
11th place: 12 points
...
We really want to thank everyone taking part in this project. Make sure to have an eye on our Twitter account to know everything about our next events! If you are a participant of our Play Test #2, make sure to fill in our next survey for feedback!
Have an Auzom day!