1. Definitions
1.1 Regions
Oceania (OCE) – American Samoa, Australia, Cook Islands, Fiji, French Polynesia, Guam, Kiribati, Marshall Islands, Micronesia, Nauru, New Caledonia, New Zealand, Niue, Norfolk Islands, Northern Mariana Islands, Palau, Papua New Guinea, Pitcairn Islands, Samoa, Solomon Islands, Tokelau, Tonga, Tuvalu, Vanuatu, Wallis and Futuna.
1.2 Auzom Definitions
Auzom Admin - An Auzom Admin is a staff member of Auzom who is indicated with the red "PUBG Admin" role in Auzom's public Discord server.
Contestant - A team which may consist of a Duo, Squad and substitutes.
Manager - An individual involved with coordinating the players.
Player - An individual who competes in an Auzom tournament.
Substitute - An individual who replaces another player who is unavailable to participate. A player counts as a substitute if they have less than 60% playtime of the event.
Coach - An individual involved with coordinating the players.
Organisation - An organised group of people with a particular purpose.
Round - A round is an individual game which is played.
Round points - The point system for a round.
Round score - The points earned by a team in a round.
Tournament - A tournament is made up of a number of matches.
Match - A match consists of one or more rounds (typically 4).
Match score - The total points earned for all the rounds played.
1.3 Platform
Auzom PUBG tournaments are only open to PC users. Each player must have a public steam account that has no active bans for any game. If asked by an admin, a player must change his profile on steam from private to public. If a player wants to participate and does have an active ban, they must advise an Auzom team member. For more information please refer to the Previous Bans section.
Players are required to play on the PUBG account that has the same in-game name that was provided at registration to be eligible to compete. This must be the same account that is linked to the SteamID:64 that was entered at registration. If a player needs to use an alternate account, please contact an Auzom admin.
A player may not lend their account to another player for the purpose of competing and will be penalised if found doing so. For more information please refer to the Penalties section.
2. Game Mode and General Information
The Oceanic Auzom Premier League (APL) Season 3 Qualifier is a two stage tournament with 4-6 player teams. For the Oceanic APL Season 3 Qualifier, each match day will consist of four rounds.
Default match times:
Stage 1:
1st Match: 26th of August 2018 at 19:00 AEST
2nd Match: 28th of August 2018 at 19:00 AEST
Stage 2:
3rd Match: 2nd of September 2018 at 19:00 AEST
4th Match: 4th of September 2018 at 19:00 AEST
Team leaders are expected to be present for check-in 30 mins before the match goes live. Check-in information is outlined in the Check-In Procedure section below.
2.1 Format
Qualifiers will consist of two Stages. Stage 1 will take place on the 26th and 28th of August. Stage 2 will take place on the 2nd and 4th of September.
Stage 1 will have three lobbies. Each lobby will contain 16 (33.33% of the field) teams. After Match 1 lobbies will be adjusted accordingly to the "Lobby Seeding Procedure".
Following Match 2 the top 16 teams, based on aggregate Round Scores, will progress to Stage 2. Upon completion of Stage 2 the five (5) teams with the highest aggregate scores earned in Stage 2 will qualify for a slot at the Oceanic Auzom Premier League Season 3.
Signups will be run on a "first come, first served" basis.
2.2 Lobby Seeding Procedure
Prior to Match 1 teams will be seeded by Auzom. After Match 1 lobbies will be adjusted pursuant to the following format: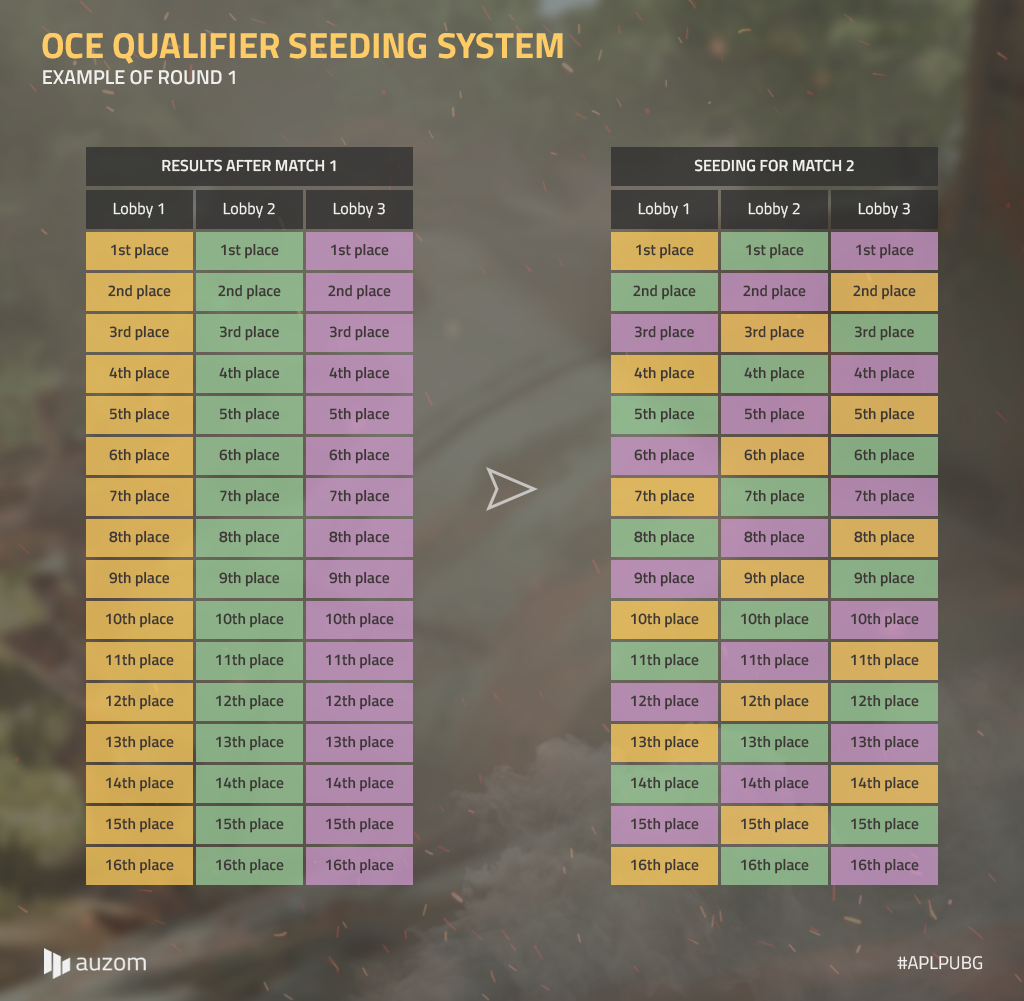 2.3 Player Restrictions and Instructions
Region Restrictions: A team must always have at least 2 players playing from within the region in any given round. If a team plays a round with more than 2 players from outside the region, the scores of that round will not be counted towards the final score of the team.
Minimum active roster size: A team must consist of at least 4 rostered players to be eligible to compete.
Maximum active roster size: A team may not have more than 6 players on their active roster.
Player history: Teams may not make any changes to their roster following sign-up.
A player may not lend their account to another player for the purpose of competing..
A player may only be registered to one (1) team at a time for the duration of the Tournament.
2.4 Registration and Sign-up
All sign-up announcements will be made through the Auzom Discord server and the official Auzom Twitter @auzom_gg. Sign-ups are done via Google Forms, teams entered in the sign-up are required to provide the following information:
In-game names of all team members
SteamID:64 of all team members
Discord ID of team leader (Example: Name#0000)
Contact Information for Team Owner (Twitter, Email or Discord ID#)
N/B: Please nominate a Team Leader to help us organise and confirm team line-ups and attendance. This person will be the main point of contact for all Auzom related enquiries regarding the team.
Please indicate a slot owner for your team, see "League Slot Ownership". Slot ownership is expected to be agreed upon internally with your team and or organisation.
A team must always have at least two (2) players playing from within the region in any match.
2.5 League Slot Ownership
Teams must always have a slot owner. If a team fails to submit an agreed slot owner they will not be permitted to compete in any Auzom event. The slot owner must be decided upon registration of a new team or by requesting an update by contacting an Auzom admin.
The initial slot owner is expected to be agreed upon internally with your team and or organisation.
Eligible owners of a slot:
Organisation
Manager
Coach
Players
If a team qualifies for future competition based on their performance in the immediately prior season or qualifying event the slot will be retained by the agreed slot owner. Restrictions do apply for eligibility of the slot to compete in these events, please consult additional rules below.
In the event of significant roster changes the following may apply:
Team disbanding: The slot will be retained by the agreed slot owner. (Additional eligibility to compete rules may apply.)
Organisation change: The slot will be retained by the agreed slot owner. If the slot owner is the team's previous organisation it may provide its consent for the transfer of slot ownership to the new organisation or team's captain.
Restrictions:
Slot ownership can not be given away outside of the team.
Slot ownership can not be sold.
If an organisation picks up a team during an ongoing event, the slot ownership can not be transferred to the new organisation and needs to remain with the active players in the team. Once the event has ended a team may request a slot ownership change. (This has no impact on team name changes).
If a slot owner doesn't respond in time, the Auzom staff may take away the ownership and dismiss the slot or transfer it to the team members.
A substitute can not be the slot owner.
For the purposes of roster continuity, each team must retain at least two registered players from the prior season or qualifying event regardless of whether the slot is owned by an individual player or organisation. If a team does not maintain a minimum of two registered players from the previous season it will forfeit its league slot. Any change more drastic than that will be handled on a case-by-case basis.
Auzom reserves the right to revoke or transfer a Team Slot Ownership of a user if a review provides cause for it.
2.6 User Behaviour
We wish to ensure that all participants within the Auzom events act and respond to user and staff content in a constructive and responsible manner.
Whilst all users have the right to express their own opinion, it is expected that members will respond to or create content on the Auzom system in a mature and non-abusive way. By registering to this system you have agreed to not post any abusive, illegal, obscene, vulgar, slanderous, hateful, threatening, racist, or sexually oriented materials whether depicted in media or text.
Auzom and its partners also have many public access areas such as its public Discord channel, stream channels and its chat rooms that are provided for your enjoyment. People that are deemed to be breaching the rules while using these services will be removed for a time period at the sole discretion of the admin team.
All rules listed by PUBG Corp in their Rules of Conduct also apply in Auzom events. Violation of these rules will result in penalties that are decided by the staff on a case-by-case basis.
2.7 Sportsmanship
Auzom PUBG events are part of a competitive esports community and as such all members joining this system are to exhibit good sportsmanship and maintain respect for one another. No team or member of a team has the right to degrade or talk down to another player or team based on their ability or skill level.
Breaches of these rules, even outside of Auzom's network, can come with penalties/disciplinary measures as all members of the PlayerUnknown's Battlegrounds community are welcomed and encouraged to compete at whatever level they can achieve and we expect all members to encourage and support others in achieving the highest standard of competitiveness possible.
In addition to this, Auzom will not stand for public witch-hunting. In cases of suspicious activity please contact an admin in direct messages, accusations in public channels will be deleted. We value the competitive integrity of our events greatly, and will review all evidence relayed to the admin team to ensure fair play and take action where necessary.
2.8 Nicknames, Team Names, URL Aliases and Logos
Any in-game names and/or URL aliases or similar may be edited or removed at the sole discretion of Auzom. This could occur where names/aliases are deemed to be:
Offensive, discriminatory, vulgar, obscene, defamatory or inciting hatred;
Protected by third party copyright or other rights without prior written consent;
Unintelligible and/or nonsensical.
The above conditions are by no means exhaustive and the Auzom staff team reserves the right to redact any nicknames or aliases where it is believed to be necessary. Alternative spellings and or replacement characters being used in an attempt to bypass these restrictions are not permitted.
2.9 Broadcasting & Casting
Auzom reserves the exclusive right to the spectator coverage of all its PUBG events, on the official channels for Twitch, auzom_gg and auzom_pubg. However, we would like to also encourage streams from personal perspectives of participating individuals.
The official Auzom stream will run on an 8 minute delay.
We ask any participant planning to broadcast their perspective of the PUBG events to meet the following requirements:
Title of broadcast to include "Auzom", the tournament name and PUBG at the beginning of the title. Examples include: APL PUBG, AOS PUBG, NATIONS CUP PUBG
An eight (8) minute minimum delay in the stream, for your team's safety (recommended)
A bot command - !auzom "Learn more about Auzom here: https://pubg.auzom.gg/ | Main event stream: www.twitch.tv/auzom_gg".
We would appreciate your support of Auzom's event organisation and encourage all players to stream their perspectives.
If you're interested in casting Auzom events, please send us your details, motivation and experience message an Auzom Admin on our Discord. As we have a number of events we are continuously looking to expand our talent pool in a number of regions.
3. Managing and Matching
3.1 Check-In Procedure
Team leaders must be present in the Auzom Discord so that they will be able to receive the appropriate Discord role for the tournament. This role allows the team leader to have access to all tournament specific channels.
The check-in procedure is as follows:
An Auzom PUBG admin will post in the channel dedicated to the server lobby when check-in starts and what channel to join.
Team leader must join the check-in channel 30 minutes before the advertised start time for the match.
Admin will start doing a roll call to finalize the check-in.
If a team leader is not present and/or have not completed check-in within 10 minutes after the check-in has started, their team's spot may be forfeited. Additionally, the team might receive a No Show strike.
The dedicated channels for this tournament are:
oce-qualifier-lobby-a
oce-qualifier-lobby-b
oce-qualifier-lobby-c
Teams have the option of using dedicated Auzom voice channels, but this is not required. If you wish to have a channel created for you, please contact an Auzom Admin. If a team does not use a dedicated Auzom voice channel for communication, the team leader must monitor the tournament specific Discord channels to allow swift communication of admin decisions.
3.2 Joining Server
All required information pertaining to joining the server and the slot each team is assigned will be posted by an Auzom PUBG Admin in the text channel dedicated to each server lobby. The server information must be handled discreetly. Sharing the informations with non-participants is prohibited.
The message will contain the following info:
Server name
Server password
Image showcasing the server slot assigned to each team
Servers will be locked according the following procedure:
First round: Default start time Subsequent rounds: 8 minutes after the server information was posted in the dedicated channel.
Teams are responsible to make sure their players are on the server and in the correct slot on time. The admin will not wait for teams or players.
Time limits above may be extended by the admin if they require the extra time to resolve any issues in the administration or production side of the events.
3.3 Server Settings
Erangel
Cosmetics Multiplier: 0x
AR Multiplier: 1.5x
Sniper Multiplier: 1.3x
DMR Multiplier: 1.3x
Flareguns: 0x
Crate Drop: Default
Circle Settings: Modified
Red Zone: Off
Weather: Sunny
Perspective: First-Person Perspective (FPP)
Miramar
Cosmetics Multiplier: 0x
AR Multiplier: 1.5x
Sniper Multiplier: 1.3x
DMR Multiplier: 1.3x
Flareguns: 0x
Crate Drop: Default
Circle Settings: Modified
Red Zone: Off
Weather: Sunny
Perspective: First-Person Perspective (FPP)
3.4 In-Game Rules
No pauses are allowed during a round.
The rounds during the match will be played back to back and the teams have to join the new round lobby as soon as possible.
A team must play with at least 3 players in any given match. If less than 3 players join the server in time, the remaining players will be kicked and will have to sit out that round. The team can join the next round with 3 players or more.
In the event of a disconnect, the team will continue to play out the match. The disconnected player may rejoin the match that the disconnect occurred in. If disconnections impact multiple players across multiple teams, a restart may occur, at the discretion of the Auzom team.
The Auzom team may order a round to be restarted due to exceptional circumstances, such as if a bug significantly affects multiple players' ability to play or if wrong settings have been implemented.
3.5 Reserve Teams
All reserves need to check in. Reserve priority will be according to the time they signed up for the Qualifier. If a reserve team does not check in before the deadline, they will be skipped and the next reserve in line will get their reserve spot. If a reserve is needed to replace a team in the tournament, they are expected to answer the admins within 2 minutes after the contact. If the reserve team does not answer the admins, they will be skipped and the next reserve in line will be contacted.
All team replacements will happen before the tournament starts.
4. After the Match / Round
4.1 Point System
+ 7 points/kill
1st place: 200 points
2nd place: 165 points
3rd place: 140 points
4th place: 120 points
5th place: 100 points
6th place: 85 points
7th place: 70 points
8th place: 55 points
9th place: 45 points
10th place: 35 points
11th place: 30 points
12th place: 25 points
13th place: 20 points
14th place: 15 points
15th place: 10 points
16th place: 5 points

4.2 Prizes
The top five teams at the end of the event will qualify for OCE APL Season 3.
4.3 Replays
Auzom requires all Players to retain local copies of all round replays for the duration of two weeks following the match. Copies of these replays may be requested at Auzom's discretion. Failure to do so may result in suspension from future Auzom events.
To find the replays press "Windows Key + R" and type "%localappdata%\TslGame\Saved\Demos". Click OK, that opens a folder which contains all replays. Zip the folder of the correct replay and place it in an "Auzom" folder on your device. In case your replay is requested, send in the zip file via the given Google Form.
Replay requests will be done each week, where randomly selected players will be asked to send their replays.
Any player that fails to provide replays within a week will be suspended from playing in Auzom events.
4.4 No Show
The following situations can result in a No Show strike for a team:
The team is not present during Check-In
The team did not have a minimum of 3 Players within their assigned server slot at the time it is locked
4.5 Bug Usage/Cheating
All forms of cheating is unacceptable and players will be penalised by the Auzom team. Additionally, any use of glitches in the game is strictly prohibited. Players and teams caught cheating and/or use glitches to their advantage will face penalties on a case-by-case basis.
4.6 Previous Bans
Previous bans will be reviewed on a case-by-case basis by the Auzom team.
If a player has a ban in any game that is less than 1 year old for cheating on either their main or alternate account the player is not allowed to compete in our events.
If a player has a ban in any game that is more than 1 year old for cheating on either their main or alternate account the player may apply for permission to play. Depending on the date of the ban and where you are banned from there may be terms that must be agreed to in order for the player to compete, for example recording matches. If a player does not get permission before playing, it is considered as using a banned player. The decision as to whether a player will be allowed to play or not is at the sole discretion of the admin team.
If a player has a (game)ban that is more than 2 years old it will not be taken into consideration and permission is not required.
4.7 Penalties
The admin team will use the following system as a basis to penalise or sanction players/teams for breaking rules or for unwanted behaviour. The admin team will handle each case individually and may deviate from the system at their sole discretion.
| Rule Violation | Penalty |
| --- | --- |
| Cheating | Team/Player disqualification & 2-year ban on player in question. |
| Inappropriate/offensive behaviour | Muted/Banned from official Auzom Discord Server. Length of time will be determined by Auzom Staff. |
4.8 Language
The official language for the Auzom network is English. This will be the only language used for communication between teams.
4.9 Feedback
Any participant is free to provide feedback in the pubg-feedback and pubg-team-leaders channels on Discord or through any other channels. Please provide as much detail in the feedback as possible. The more constructive feedback we receive the better we can adjust and improve our events.
4.10 Rule Overrides
The Auzom admin team reserves the right to override any rules stated above if a situation requires it. This rule will only be exercised in extreme situations where the standard ruling is not deemed either sufficient and/or fair. What is considered as "extreme situation" is at the sole discretion of the admin team.