Changes to the APL Structure
January 27th, 2018
Greetings!
We hope you enjoyed the return of the Auzom Premier League! As always the support has been great and we are truly appreciative of it. Today we have some further announcements to make in relation to a structure change for the APL.
After the first week's matches, many teams came to us to provide feedback about the lobby size. Up until now we have had 20 teams per lobby and 2 lobbies within the APL to give a total of 40 teams per region. Today, we are announcing that we are reducing the lobby size in the APL to 16 teams and adding a 3rd lobby to accommodate for it. This means that we will now have 48 teams per region in the APL.
So how are we implementing this? The obvious solution would be to add a Lobby 3 that would act as a third tier within the league, however we feel that we have a more appropriate solution. We will continue to have Lobby 1 which will be the Premier Lobby, however the remaining 2 lobbies will be Challenger Lobbies. The Premier Lobby will be made up of the Top 16 teams and will maintain its current Global Points distribution. The two Challenger Lobbies will use the existing Lobby 2 Global Points structure and will be seeded in a staggered fashion, based on overall Global Points, to leave them as equal as possible in terms of skill level.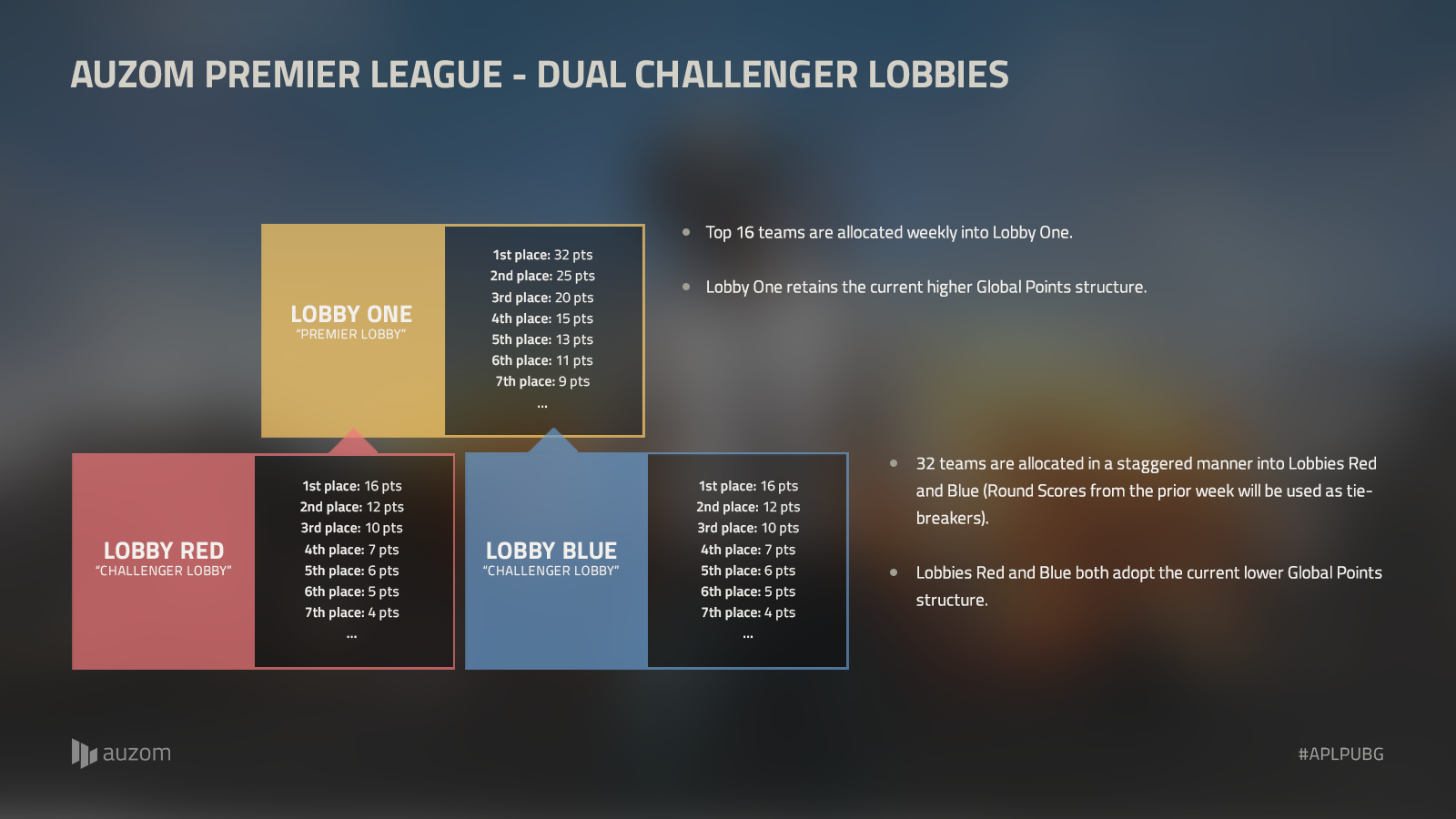 The additional 8 teams per region will be made up of teams that just missed out on a committee invite and teams that performed well during the qualifiers.
In the EU region we are welcoming Loot Goblins, Gentside, Millenium, Hfrag, myTeq, Riddle Esports and House of Nobles. On top of this we will have Ronin competing in EU, as their latest roster change makes it so that the majority of their players are from the EU region.
In the NA region the following teams will be added: Quad Pen, Murderous Plushtoys, Proxy, Sweaty Nerds, Void, Slime Squad, Elus1ve Gaming, Core Four and Aftermath.
These changes are coming into effect for Week 2 on Monday 29th January.
We will continue to be receptive of any feedback we receive in relation to our events and will take onboard as much as we can. We feel that these changes are appropriate given the current environment and hope that you understand why the decision has been taken. We always have the scene's best interests at heart here at Auzom and hope that you will continue to give us the support that we all know and love!
Be sure to tune in to Week 2 of the APL on Monday 29th of January at 8 PM CET for EU, 8 PM EST for NA. The games will be streamed on our Twitch channel, twitch.tv/auzom_gg.
Have an Auzom day!